---
We specialize in portable to small battery based PV charged power systems.
We have provided course development, lab training and presentations for Hudson Valley Community College through the Workforce Development and Solat Instructor Training Network programs.
Training topics and Applications include:
Site Analysis for PV systems; residential & commercial
Equipment selection
System Sizing calculations
Mechanical Design process
Electrical Design process
Batteries or not
NEC Compliance
Tools of the trade; hardware & software
Portable Power Systems

NYSERDA Eligible Installer #4240

Glenn Burt

NABCEP Certified Solar PV Installer 031409-16

Adjunct Instructor at Hudson Valley Community College in PV

Trained by:

Solar Energy International

SMA America

SMA America

2003

2003

2003

Outback Power Systems

SoL Energy

Brooks Engineering

2003

2005

2006

NABCEP Entry Level Cert.

Sunpower Advanced

NABCEP PV Installer

2007

2008

2009
---
Custom Applications using Renewable Energy
Here is an example of a custom application using RE: Portable water pumping station running on 12 VDC, rechargeable using a Photovoltaic panel. Drop in the water tube with debris screen, selectable water filter (in or out). Solar charge controller, complete metering with programmable timer.
Designed to be used with a rainwater catchment system for programmable drip irrigation of gardens.
---
Portable Power Systems
We specialize in small systems, specifically suited for limited use. Some examples of uses are:
Communications
Emergency Lighting
Computer Backup
Portable Entertainment System
Loss of Grid, Emergency Power
Camping
Portable Power
*************************************************
Here are examples of two custom designs:
System 1 is based on a Xantrex xPower 1500. Building on the features of this system, a Morningstar Prostar charge controller, Uni-Solar 32W flexible PV and a RigRunner DC distribution panel utilizing Anderson power pole connectors are added to increase flexibility and charging options.
Portable Power System 1 (PPS1)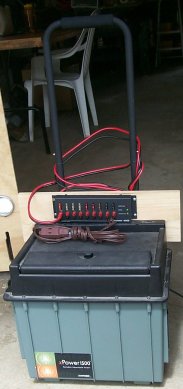 ************************************************************
System 2 is comprised of 2 (or optionally 4) 80W PV panels, paralleled feeding (disconnectable) an RV Power Products SB 50DL Charge Controller. The output from this flows through a shunt (for metering), into an MK Battery 90 Ah gel cell (G27). Power is drawn off the battery through Square D QO circuit breakers - one for the DC distribution, effected through a RigRunner panel utilizing Anderson power pole connectors. The other breaker powers up a Xantrex TrueSine 1000W inverter with built-in GFCI protection. This system is enclosed in a vented plywood box with removable front cover and hinged sides. It is designed to fit easily on a hand truck (dolly), for single person mobility.
Portable Power System 2 (PPS2)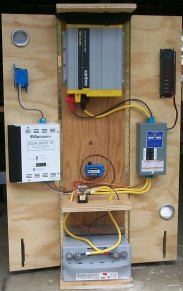 Click on the image for a larger annotated view
Other options not installed here are a Class T fuse, a second battery, a TriMetric meter and an AC battery charger for critical applications.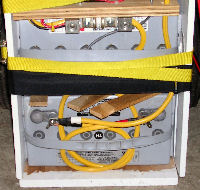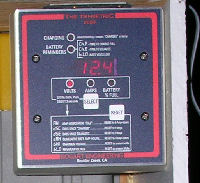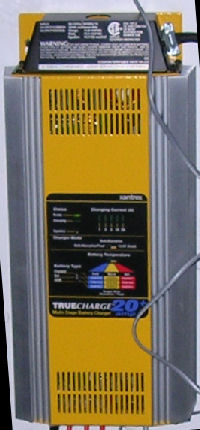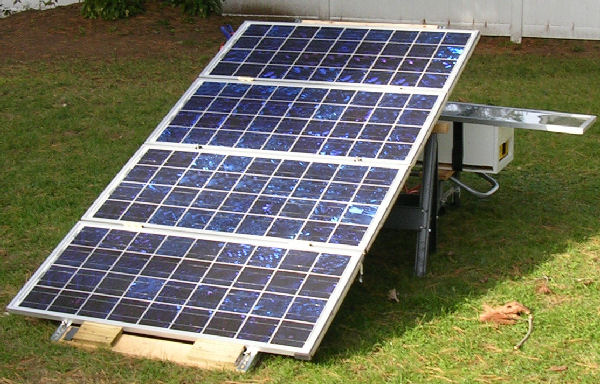 Please contact us with your load requirements and we can customize a PPS for you! We can change batteries for different run times, charge controller and PV panels, inverter and metering to better suit your needs or requirements.
---
Rainwater Catchment Systems
Designs using readily available parts for collecting, filtering and storing rainwater. Great if you live in an area that frequently bans outdoor water use due to droughts.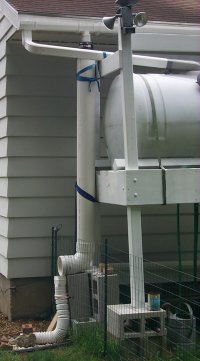 Gutters to collect the roof runoff. Engineered roof washer designed for the collection area. Simple connection to standard agricultural tanks. 300 gallon tank elevated on custom tower. Valving and simple connections to garden hose ends or pumping station above.
---
Energy Reduction Practices
Do you really know where all your electricity is going? Are your bills going up, but you don't know why? We can perform electrical audits that will pinpoint where all that electricity is going.
Once you see where your power is being used, there are many things you can do to begin to reduce your reliance on/usage of energy.
If you are thinking about solar electric power, consider this: every dollar you save in reducing your consumption is equivalent to about three dollars spent on solar electric hardware.
A great and inexpensive tool that you can use to measure your appliance energy consumption is the Kill-a-Watt meter. You can get all the details at the P3 website.
Easy things you can do to reduce your electric bills:
Replace Incandescent lights with Compact Florescent bulbs
Turn off lights when you are not in the room
Replace electric appliances with more efficient units (look for Energy Star ratings)
Replace electric water heater with propane
Replace electric stove/oven with propane
---
Renewable Energy Sources
Solar
Utilizing the power of the sun is a great way to reduce your dependence on the utility grid. Power from the sun is maximized during the middle of the day - just when you need the most power to offset large loads like Air Conditioning. If you are not home, you can bank that energy into the utility electric grid, and offset your usage at other times of the day.
---
Battery Backup
Are you subject to the whims of the power company? Do you wish that you had more control over our electricity bills?
It is possible to create an independently powered area in your home or office that is not dependent on the power company. Using readily available components, we can create an isolated area in completely powered by renewable energy.
No payments to your power company needed!
Power your office, home office, garage, cabin, or even bedroom. Relying on batteries to store energy and inverters to convert that energy to standard 110/120 VAC for lighting and appliances.
Systems can be small and simple or larger and more complex, depending upon your needs.
---